Therapist Peer Consultation Groups: 11 Benefits of Therapist Consulting
The ongoing, significant toll that the Pandemic has taken on many of today's therapists is a fact that is being further enunciated as more and more therapists opt for autonomy over supervision. As the rapidly changing field of mental health continues to evolve, the abundance of entrepreneurial resources has caused many clinicians to pursue their private practice dream, and for many therapists, this means moving their practice to 100% online. While there are many pros to being your own boss, the lack of peer support is a major downside that, if left unattended, can lead to anxiety, isolation, imposter syndrome, and burnout.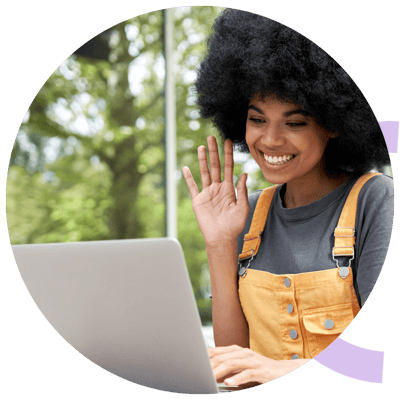 As many private practice clinicians know, sometimes, private practice work can be lonely, and the loss of access to case consultation is a loss that is felt both personally and professionally. Fortunately, this is a problem with a solution, and private practice clinicians now have access to peer consultation groups through Hopscotch's exclusive platform. Hopscotch provides a judgment-free, confidential space for peer support through clinical case consultation, a feature that our strong network of providers finds significant value in.
Debunking the top three myths surrounding clinical consultations
Unfortunately, there are a few common misconceptions about therapist group consulting that may prevent a therapist from participating in and benefitting from therapist consultation groups. So, before we list all the valuable benefits of therapist group consulting, let's debunk the top three myths surrounding clinical consultations:
I'll be judged.


Nope. You won't. The group consultations Hopscotch hosts always begin with our trained facilitator laying the ground rules: No judgment allowed, only kind, respectful, supportive dialogue permitted, and utmost confidentiality honored always. Hopscotch's consulting groups are a safe place for therapists to recharge and grow.


I shouldn't need help.


Oof. That is a heavy burden to bear. That is also a cognitive distortion inspired by fear. Let's vanquish that fear with the truth: We all need help from time to time, so let's embrace this need together. Group consultation is rewarding, supportive, and illuminating. It's a place to network and grow on a deeper level, and it is not uncommon for many therapists within a consulting group to end up becoming close friends with the other therapists in the group. Seriously – we are often each other's strongest allies.

I'll be seen as incompetent rather than as an equal to my peers.
Actually, the reverse could be argued, because those who participate in clinical consulting tend to grow in competency at a much faster pace than those who avoid collaboration through consulting. This is in large part because consulting groups offer so much transfer of knowledge thanks to all the bright minds and intellectual insight available. We grow best when we grow together.
Therapy consultation groups: 11 Benefits of Therapist Consulting
Group consultation helps with processing the complicated feelings that therapy can bring up.


The Pandemic has been extremely challenging for the mental health industry professionals who rose to meet the challenge of a world in deep psychological distress. It is time for us to normalize that now and encourage each other so that we can process and decompress complicated feelings, remind each other that we are not alone, and renew our passion for our profession.



Giving back is rewarding.


Chances are you will learn something new and helpful, but even if you are a seasoned clinician who already has a robust network of peers and perspectives, perhaps you are the person who can share and impart helpful wisdom to the group.



A strong support network of colleagues helps reduce burnout and isolation.


Sometimes we are so focused on emotionally and psychologically supporting our clients, that we forget we need self-care just as much as our clients do. By debriefing with a consulting group, you can obtain all the benefits that a supportive community offers.



Second opinions and additional perspectives provide confidence.


Group consultations are extremely affirming and can provide the clarity needed to administer treatment plans with confidence.



It's an ethical practice that is testament to your good character.


Sometimes therapists are requested to testify in court, which can be extremely intimidating. Being able to testify that you consulted with a group of industry professionals on a recommendation or treatment option shows that you conduct your work comprehensively as an ethical professional.



Get help for the tricky cases.


We know all too well that therapy is sometimes not as "textbook" as society and TV shows can sometimes make it seem. The truth is people are complex and sometimes situations are tricky. Inviting some knowledgeable and professional input into a difficult situation can make all the difference.



Grow your therapist toolbox by exchanging best practices.


Getting a fresh perspective on how to best support the psychological needs of both you and your clients is always helpful, especially in the ever-changing nature of our industry.



Discover new approaches to treatment and gain new resources.


The mental health industry is full of vibrant minds. Why not leverage and invest in the wisdom of your industry as appropriate? Participating in consulting groups helps ensure good news and breakthrough treatment approaches travel fast.



Network and cultivate supportive working relationships with Hopscotch peers.


In addition to the obvious values and takeaways of growing your professional network, connecting with other Hopscotch peers will allow you to develop your list of resources for referrals.



Get some general peer-to-peer coaching.


Have a question? Hopscotch therapist consultation groups are a great place to find the answer. Our peer groups are a great place to brainstorm any topic from business and marketing strategies, to personal self-care, to client treatment solutions.



It is an opportunity to practice what you preach.


We are constantly encouraging our clients to connect, decompress, and recharge in community. It's excellent therapeutic counsel for a reason, and a supportive community of like minded people who understand the nuance of our own unique world cannot be underestimated. Therapists need support groups, too, so let's show up for ourselves by showing up for each other.


The bottom line: Therapy peer consultation groups are important and 100% worth your time.
Continuing to grow and learn throughout a therapist's career is not just want – it's a need, and obtaining affirmational guidance and support from a group of likeminded clinicians is both personally and professionally rewarding. Whether you work virtually online or in person, clinical consultation is a valuable asset that is worthy of being prioritized, and there are many affordable and secure options for collaborating with the other brilliant and compassionate minds in our industry. Our supportive team of experts here at Hopscotch invite you to give yourself the clinical and emotional support you deserve by participating in one of our upcoming consulting groups.