Grow your child and teen counseling private practice with us!
Hopscotch takes the hassle out of private practice so that you can spend your time and energy on the things you love. We take care of all the billing and admin work, manage insurance credentialing, deliver competitive session rates and guaranteed payment, and provide a comprehensive software platform.
Hopscotch Provides:
Listing on Provider Directory

Billing and Admin Support

HIPAA-Compliant Telehealth
Hopscotch Provides:
Listing on Provider Directory

Billing and Admin Support

HIPAA-Compliant Telehealth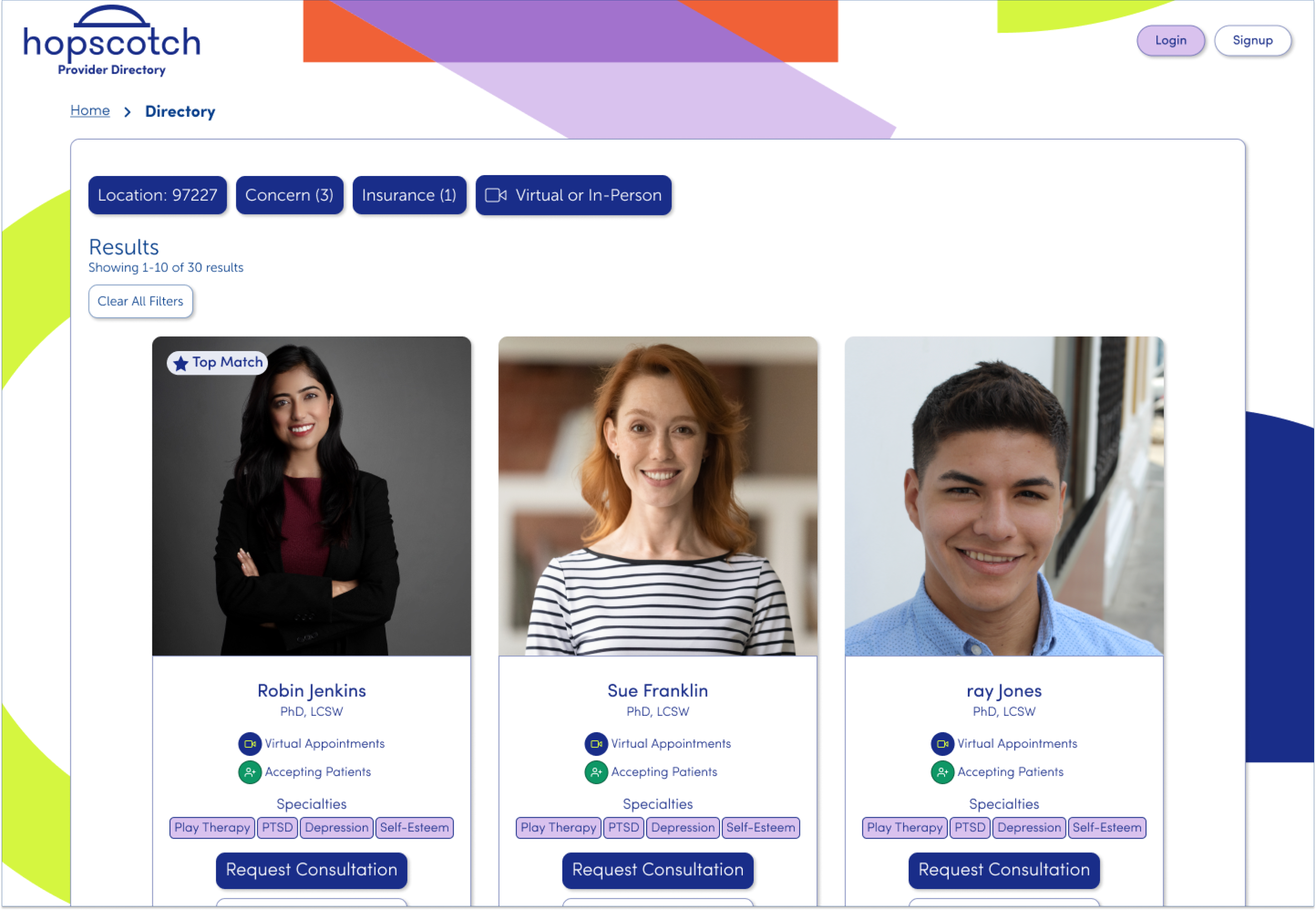 Our directory profiles are crafted to help prospective clients get to learn more about you as a person and a professional.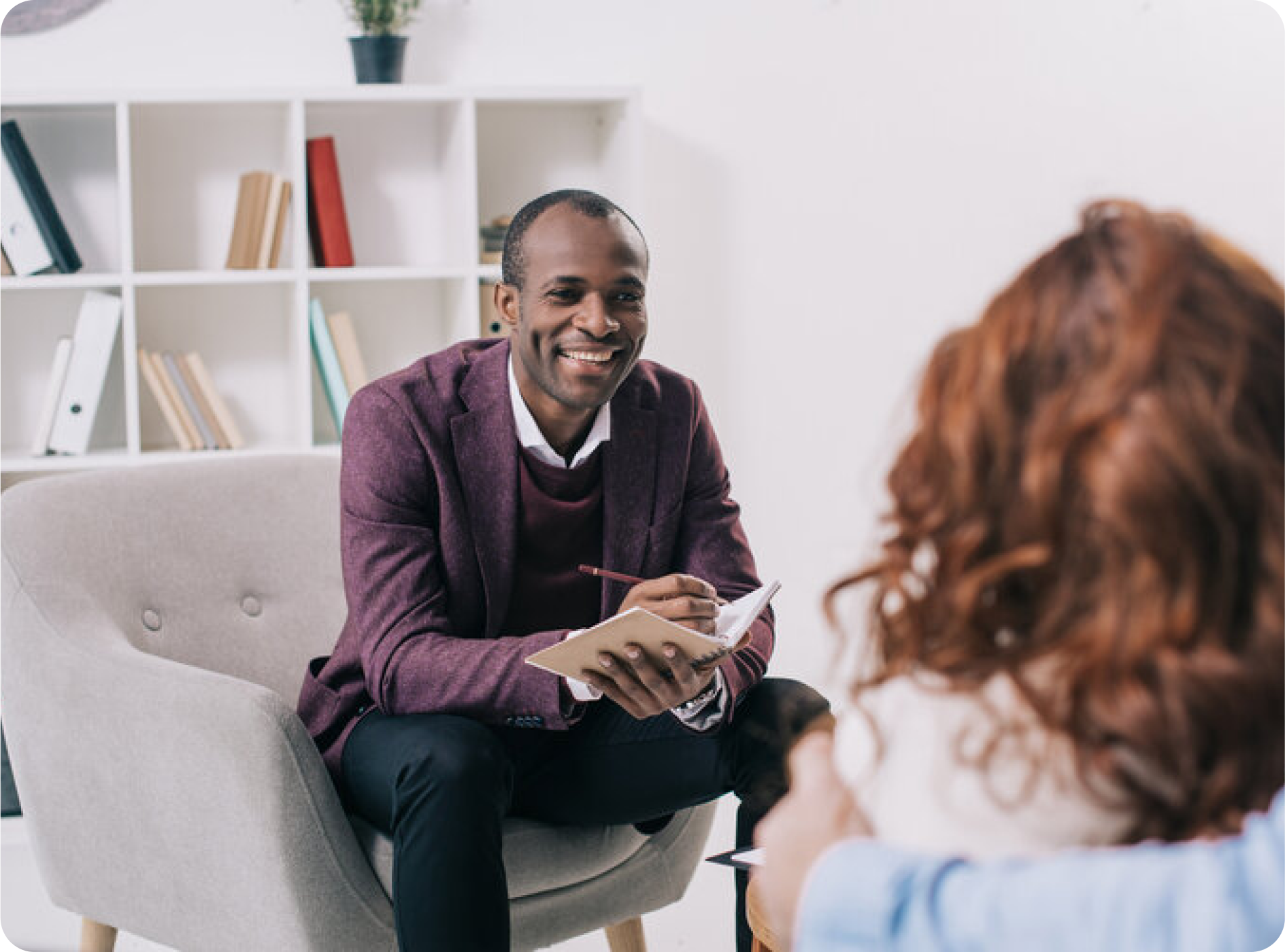 Billing and Admin Support
As a part of the network, you'll receive higher reimbursement rates, and we'll renegotiate annually with our insurance partners on your behalf.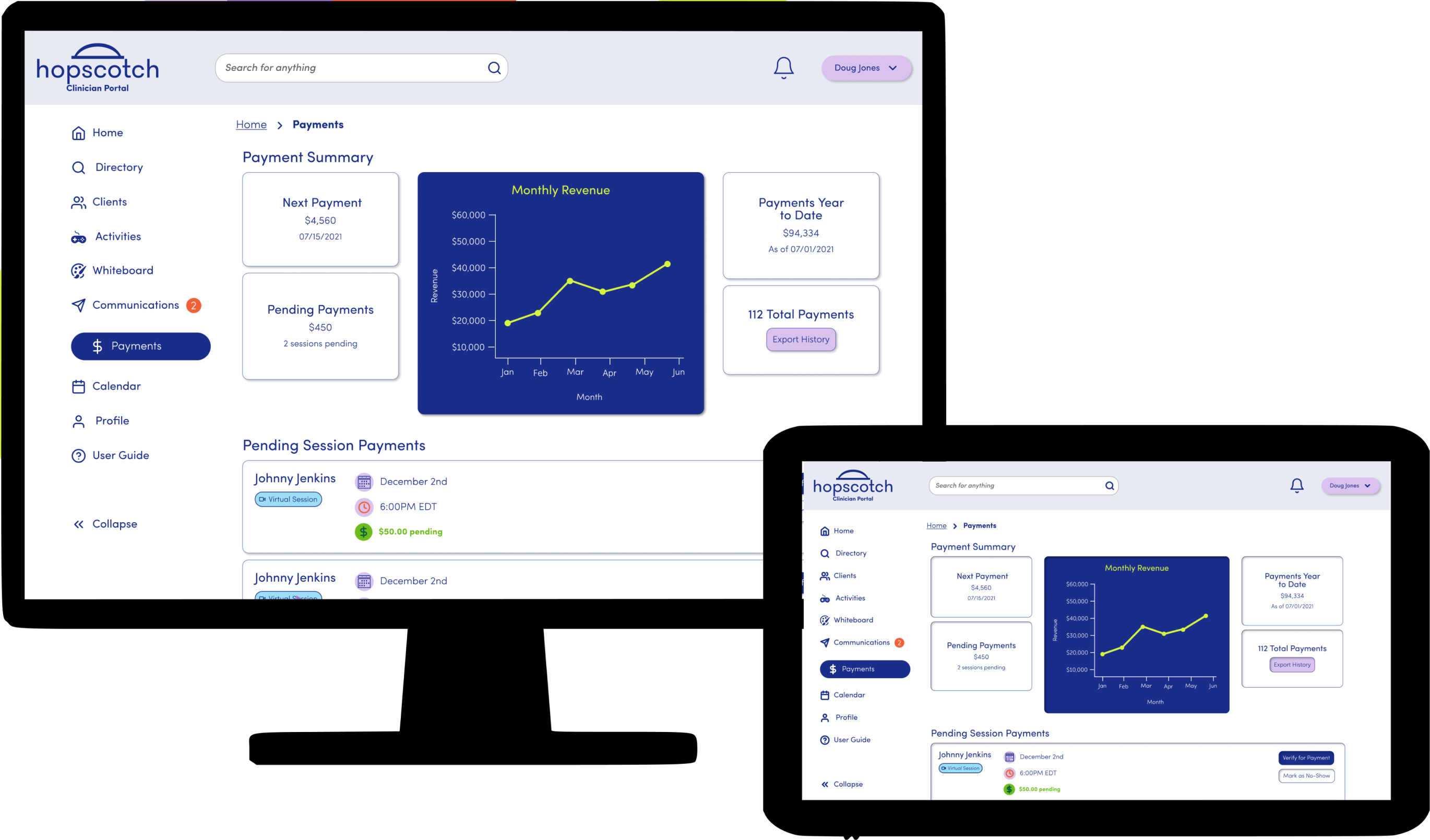 You'll never have to deal with insurance again! We'll take care of the eligibility checks, billing, collecting client payments, and ensuring timely payment for every session.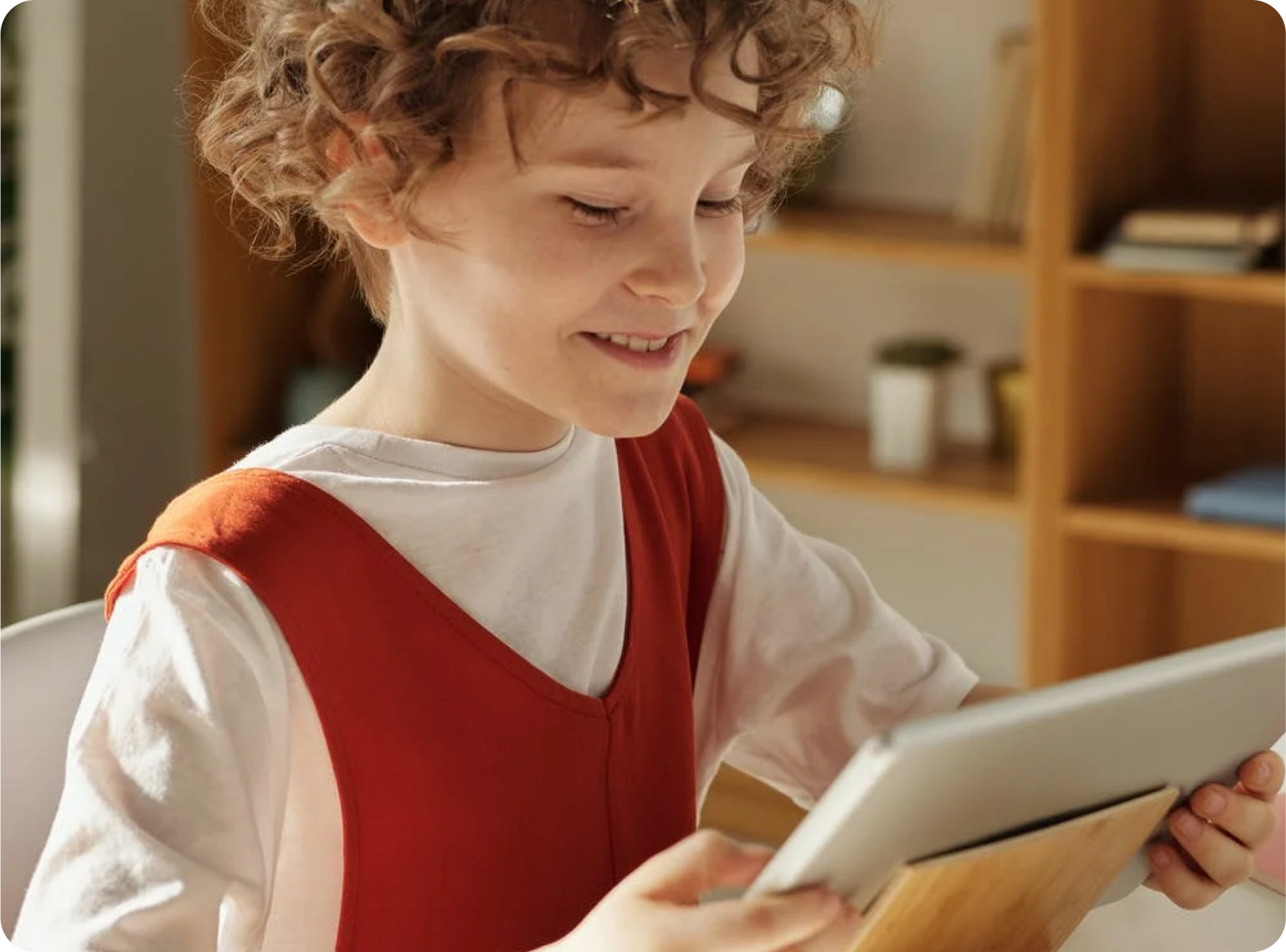 HIPAA-Compliant Telehealth
Our one-of-a-kind platform has everything you need to run a robust practice and provide the best care to your clients. This includes a tele-health platform, electronic record-keeping system, secure messaging, and access to our library of digital games and activities.
Access to interactive, clinician-developed resources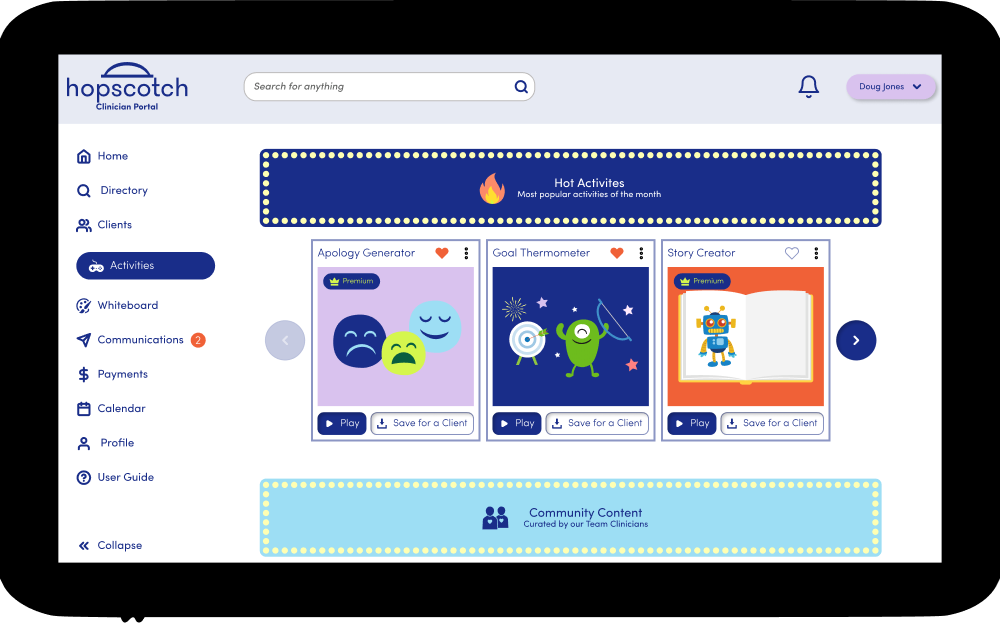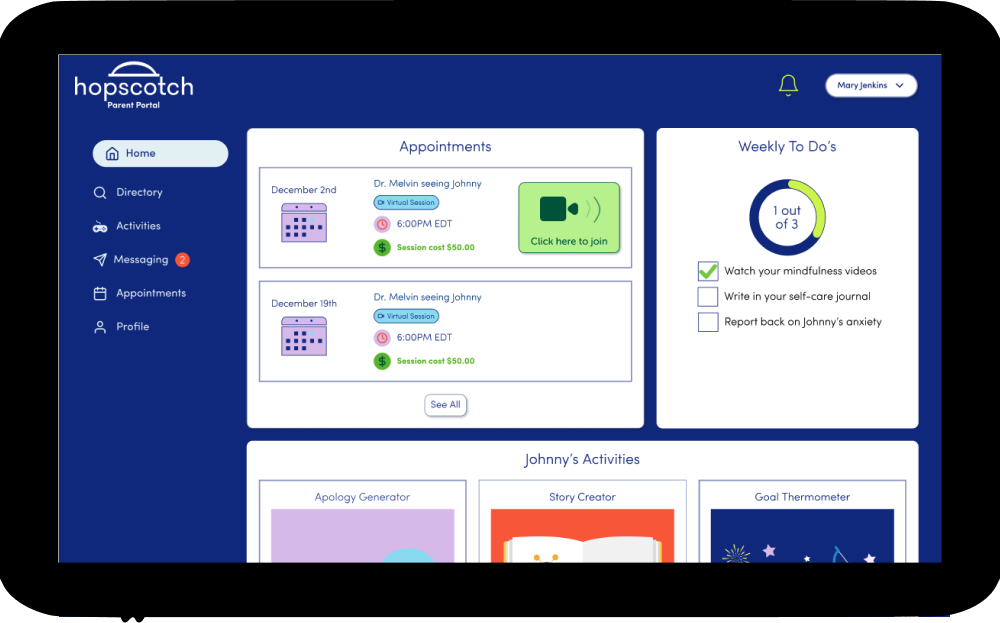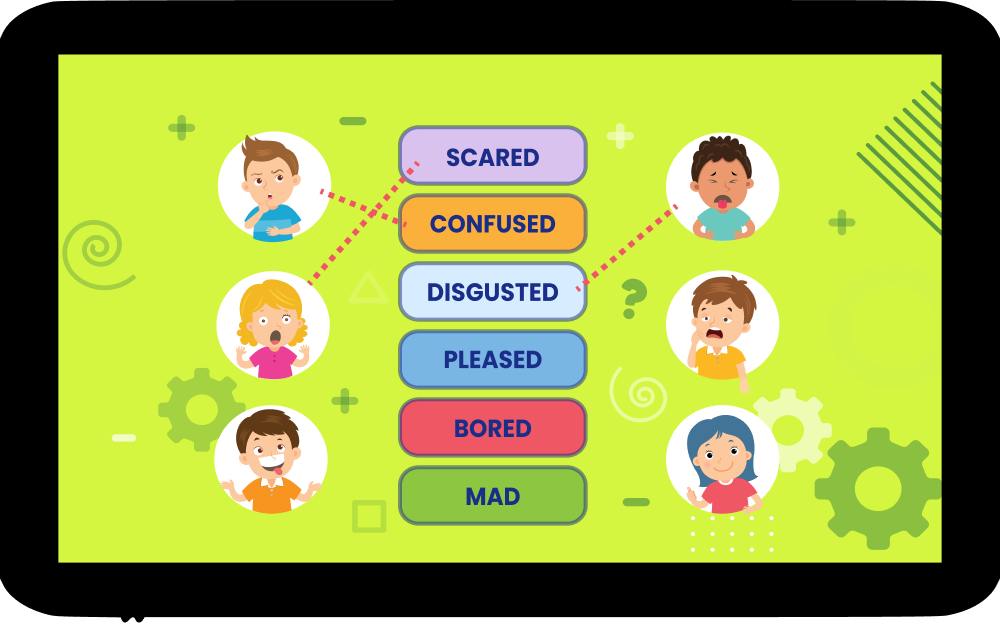 Content created for children and teens

Exercises for at-home engagement
Get Started Today!
Step 1: Apply online using the form below and we will contact you for an interview.
Step 2: Onboard onto the Hopscotch network, including enrollment with insurance plans.
Step 3: Start scheduling clients in less than 45 days.
Have Questions?
See the most commonly-asked questions we receive from providers.
What makes Hopscotch different than other networks?
Our network providers have the experience, training, passion, and expertise in working specifially with the child and adolescent population and are equipped to help children that are struggling with a variety of common childhood concerns and mental health conditions. We empower our providers with the software, support, and tools to provide the best care possible. On our platform, providers have access to fun and compelling therapy games and activities to help keep kids engaged and involved in their own progress.
What are the benefits of joining the Hopscotch Provider Network?
Joining the Hopscotch Provider Network has a number of benefits. Firstly, it is absolutely free for you to join! Our goal is empower our providers through services that help you grow your practice and allow you to focus on providing the best care to your clients.

As a member of the network, we will take care of all the admin and billing work, credential you with national and regional plans, and list you on our provider directory so that your ideal clients can find you. You will also have access to our comprehensive platform which includes telehealth, scheduling, notes, and access to our library of therapy games and activities!

Members can also enjoy being a part of our provider community and accessing benefits such as continuing education trainings, professional development, and peer consultation.
Is there a minimum client quota?

As a part of our network, you will always maintain flexibility and control of your schedule. We ask providers to have at least one active client through Hopscotch whether added from your caseload or accepted through our directory to support our mission of providing access to care. You are able to accept and add as many clients as your schedule allows. We're truly here to support your practice and make life easier for you and your clients!